Knicks point guard Jeremy Lin has become an overnight sensation and just
might be New York's answer at the 1. (Photo by Rob Carr/Getty Images)
Linsanity has taken over New York and it has NBA fans Linsane in the membrane!
New York Knicks point guard Jeremy Lin has recently become an overnight sensation following a week that saw him win Eastern Conference Player of the Week honors.
"I don't know what's going on in New York right now," Knicks power forward Amar'e Stoudemire said on MSG Network after Lin's game-winner Feb. 14 against the Toronto Raptors.
What is going on is that Lin has been what the Knicks needed to run the point guard position and it shows during a six-game winning streak that put New York back in the playoff hunt.
Following Lin's performance off the bench against the New Jersey Nets on Feb. 4—25 points and seven assists—New York Mark D'Antoni decided to give the Harvard alum a shot.
Some (including myself) saw this as a desperate attempt to save D'Antoni's job because the Knicks tried this in 16 previous games with Iman Shumpert, while waiting for Baron Davis to get healthy.
Lin responded by averaging 27.3 points and 8.3 assists per game and a 51.3 percentage from the field as a starter during the week of Feb. 6 to Feb. 12.
However, his highlight performance came on Feb. 10 against the Lakers when he scored 38 points and dished seven assists and earned the respect of Kobe Bryant.
Lin spent the 2010-11 season with the Golden State
Warriors, but was released by the team after the NBA lockout.
"Players don't usually come out of nowhere," Bryant said. "If you can go back and take a look, his skill level was probably there from the beginning. But no one ever noticed."
Lin's road to NBA stardom has been tough.
As a senior at Palo Alto High School, he won a state title and averaged 15.1 points, 7.1 assists, 6.2 rebounds, and 5.0 steals. Yet, he chose Harvard because Stanford and UCLA did not guarantee a spot on the team.
After putting up good numbers and leading the Crimson near the NCAA Tournament for first time since 1946, he went undrafted in the 2010 NBA Draft but was invited to the Dallas Mavericks' mini-camp. However, he chose the Golden State Warriors after they offered him a two-year deal.
"We thought when we offered him the one year guaranteed, we felt like he was ours," Mavericks general manager Donnie Nelson said. "But, like I said, there's no place like home."
Lin saw limited playing time with the Warriors, but with Stephen Curry and Monta Ellis, it would be very little and they released him. Same for the Houston Rockets, who needed the roster space for Samuel Dalembert.
The Knicks even came close to parting ways with Lin before his performance with the Nets according to Marc Stein.
Now the question turns to how does he jell with Stoudmire and Carmelo Anthony?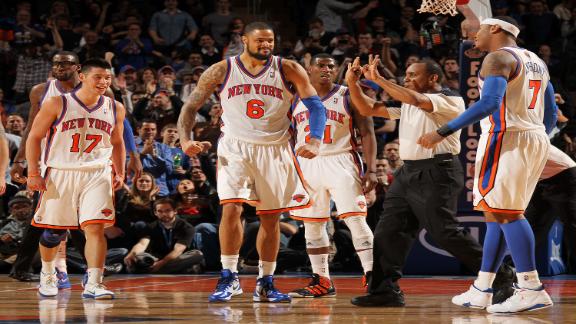 With Carmelo Anthony (7) coming back into the mix, the Knicks are
hopeful he and Lin can mesh. (Photo by Nathanial S. Butler/NBAE)
"I know there's questions about, 'Can I fit in?' and stuff like that, but this is like a dream come true to me," Anthony said. "It takes some pressure off of me. I don't have to play point guard. I don't have to try to get Amar'e 20 points, try to get this guy 20 points, me try to go out there and get 25-30 points a night, play defense, rebound do the whole thing."
Plus it can only help the team get better and help Lin settle in.
However, the most important thing is that there is a buzz again in New York City about the Knicks—which is always good for the NBA's biggest market and a premier franchise in the league.