It has been a long time coming, but the NBA is back!
This short preseason has brought forth a lot of changes, such as Tyson Chandler leaving the world champion Dallas Mavericks for the New York Knicks.
However, some changes were controversial, as former New Orleans Hornets guard Chris Paul winds up being traded to Los Angeles' "second" NBA team—the Clippers—after commissioner David Stern blocked a trade sending him to the Lakers.
With a 66-game schedule and every team playing a back-to-back-to-back at a point during the season, teams will have to survive and limit the injuries if they any hope of hoisting the Larry O'Brien trophy this June.
In this preview, my friend and fellow aspiring journalist Robert Brown (you can follow him on Twitter

@UptownBobby

and he writes for

KevinNottingham.com

) sized up the Eastern Conference while I focused on the West. We both gave our predictions of the awards too.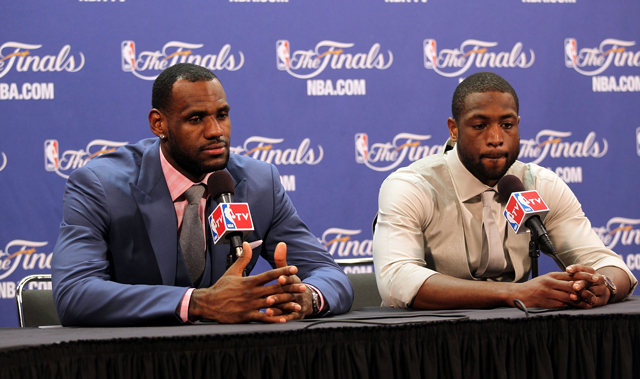 A somber LeBron James (left) and Dwyane Wade did not win the Finals in their
first year together, but could happier times be ahead for the Heat? (Photo by CBS Sports)
Since the new decade, the Eastern conference stands a bittersweet 0-2(or 0-1 depending on how you start counting your decades) in the NBA Finals. With much of the league's top talent in the Eastern Conference, the scales of winning titles will have to sway in the favor of the East. The Big 3 in Miami looks faster, the big 4 in Boston look older, and the Big 1 in Orlando looks confused. Thanks to a shorter schedule and free agency, the East is the most competitive it's been in years.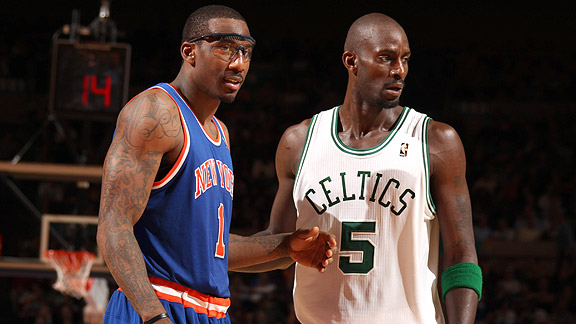 Knicks forward Amar'e Stoudemire (1) and Celtics forward Kevin Garnett will battle
for Atlantic supremacy. (Photo by Nathaniel S. Butler/NBAE/Getty Images)
Boston Celtics
(56-26 in 2010-2011)
The Celtics are depleted bench wise. With little action done during this offseason, the Celtics are going to need a lot of minutes from ''The Big 4'', and a lot of growing up from rookies JaJuan Johnson and E'Twaun Moore. The unfortunate loss of Jeff Green is going to be felt this season and Boston also needs some size up front. Brandon Bass should be a solid upgrade from Glen ''Big Baby'' Davis at the Power Forward position, but that still isn't enough size up front to compete with Chicago's Noah and Boozer, New York's Chandler and Stoudemire and Miami's faster , younger front court of Bosh and Joel Anthony.
Overall
The Celtics still have a talented group of veterans that have enough to get them into the playoffs. Once the Celtics make the playoffs, they have the moxy to make it past the first round and possibly contend for the Eastern conference title if certain teams knock each other out first.
The Knicks made the biggest free agent acquisition this season in the Eastern Conference by signing Tyson Chandler. Chandler's presence takes pressure off Amare Stoudemire and allows him to be a pure Power Forward and give him someone that can carry some of the load of rebounding and interior defense. With a depleted back court, more of the offensive load is going to be on Carmelo Anthony this year and a possible scoring title could be in the future for Melo if free acquisitions Mike Bibby and Baron Davis can get him the ball.
Overall
The Knicks are going to be much better than last year. If Baron Davis recovers from his back injury successfully and plays to his potential, the Knicks could arguably be the best team in the East. The biggest question is can Mike D'antoni get the Knicks to play defense? On paper, the Knicks will make the playoffs, but we shouldn't expect another first round exit this year.
Philadelphia 76ers
(41-41)
The Sixers did a great job of re-signing free agent Thaddeus Young. Paired with Jrue Holiday, Thaddeus will have another solid season and could possibly be an All-Star reserve if he plays to expectations. Two guard Evan Turner will come back with a bigger role in the offense and swing man Andre Iguodala will give them a reliable 15-20 ppg if he isn't traded before midseason.
Overall
Many people didn't expect the Sixers to make the playoffs last year, and no one expected them to steal a couple of games from Miami during the playoffs. Also, Philly can get better before the trade deadline by trading Iguodala and/or Elton Brand for another piece that could push them into contenders. Doug Collins is a great coach that will mold this young team into something special. Expect another playoff appearance from the 76'ers this year.
Losing Brook Lopez to injury for the beginning of the season is going to hinder any chance the Nets have of wanting to improve from last year's record. Deron Williams is the key centerpiece of the team, but with a roster that's still rebuilding after they traded most of it for Williams, the Nets have too many holes and not enough cap space to do too much of anything. Re-signing free agent Kris Humphries was a solid move, and Anthony Morrow is still a great 3 point shooter that can spread the floor.
Overall
With most of the Nets season surrounding around Deron Williams contract extension and Dwight Howard trade speculation, there isn't much to expect from New Jersey than another subpar season and maybe an All-Star appearance from Deron Williams.
With new coach Dwane Casey coming in, expect the Raptors to be a better defensive team than years before. DeMar DeRozan is going to have be their primary offensive option alongside 7 foot Andrea Bargnani. Could Dwane mold sharpshooter Bargnani into the next Dirk Nowitzki?
Overall
The Raptors will be fun to watch, and with Casey at coach they'll show improvement, but make no mistake, this team is rebuilding. Maybe a year or two from now we'll be able to talk about the Raptors being more competitive.
Divison Winner: New York Knicks
Bulls guard Derrick Rose (right) won the MVP last year, but he has his sights on an NBA title.
With Derrick Rose being this team's rock the sky is the limit. Last year, Rose carried the Bulls to the Eastern Conference Finals with little to no help. The key to the Bulls jumping over South Beach into the Finals is Carlos Boozer. If Boozer can play to his All-Star potential, the Bulls may be the team to beat in the East. Signing Rip Hamilton will get more points on the board and insert a veteran into the Bulls lineup that can bring a sense of leadership to a young team.
Overall
Last year was a surprise year for the Bulls. No one expected Rose nor that team to be so good that fast. Now, it's NBA Finals appearance or bust. This team has enough talent to bring Chicago its first title since 1998.
Much like the 76'ers, the Pacers are a great young team with a 2nd year coach (Frank Vogel) that has improved in the offseason from last year. With Darren Collision being the starting PG, expect the offense to grow even more now that he's the primary facilitator. Free agent signing David West is going to add much needed locker room leadership to a young team that needs it.
Overall
The Pacers are a dangerous team if things translate on paper onto the floor. Roy Hibbert will develop and acquisitions George Hill and young players like A.J. Price, Paul George , and Tyler Hansbrough will get plenty of playing time. The Pacers are looking to be at least a 5 or 6 seed come playoff time.
Brandon Jennings
had a lukewarm season last year that was plagued with injuries and a team that was last in scoring last year (91.9 points per game). With the signing of Mike Dunleavy and new comer Stephen Jackson, there are bright spots on the team that can mold into playoff hopes.
Overall
Milwaukee can do some great things this year if they can remain healthy. A 66 game season should favor a young group with veteran pieces. Jennings is the key, though. If he can take the leap that many experts imagined him taking last year, than Milwaukee is a playoff team. A first round series would be enough to keep Scott Skiles a job.
Lawerence Frank is a good coach, but rebuilding is never fun. The Pistons have great young pieces in Greg Monroe and Rodney Stuckey veteran leadership from Tayshun Prince. And with Charlie Villanueva and Ben Gordon being overpaid, they still can contribute offensively.
Overall
Lawerence Frank will have a job in trying to please everyone in his rotation. Expect Brandon Knight and Kyle Singler to contribute immediately. If things work for the better, Detroit could sneak into the playoffs.
Cleveland Cavaliers
(19-63)
The ghost of LeBron James isn't lingering as much now that new #1 draft pick Kyrie Irving is in town. This team is far from being complete, but they do have great young players that will develop and possibly become household names. Expect a huge season for rookie Tristan Thompson.
Overall
The Cavaliers won't be very good, but they are going in the right direction as far as rebuilding goes. They'll be in the draft lottery again building around Irving.
Division winner: Chicago Bulls
Could Magic center Dwight Howard go "up, up, and away" from Orlando or does he stay?
Chirs Bosh
is the man that will push Miami through the season. Bosh spent this off season bulking up and from this Preseason has played with an edge. LeBron James and Dwyane Wade will do what they do best and create offense and everything else for the Miami Heat. Veteran Udonis Haslem returns to start the season healthy this year and will give Miami toughness up front. Shane Battier will give Miami a much needed boost off the bench and can knock down the occasional clutch 3 pointer.
Overall
The Miami Heat are good enough to start the season off 20-0. The back-to-backs during this shortened season will benefit Miami more than any other team in the Eastern conference. I honestly can't see Miami losing more than 10-15 games all season. This is definitely the season that will put the Heat in the record books, title or not.
The season all depends on Dwight Howard being traded or not. If he stays, the Magic are pretty much bringing the same team back from last year that got put out the first round of the playoffs. If he goes, maybe the Magic can start the rebuilding period early and build around the draft. It all depends on how the Magic start off the season before Magic G.M. Otis Smith pulls the trigger on a deal for Dwight.
Overall
Orlando overpaid for Turkoglu and Jason Richardson, but they're back on the team and if they contribute accordingly, Orlando could make some noise during the postseason.
Swingman Jamal Crawford is now in Portland and that means that the Hawks offense is less explosive than previous seasons. Al Horford came into his own last year under center with career highs in scoring (15.3) and field goal percentage (55.7%) . If Joe Johnson can play at an All Star level and Josh Smith show gradual improvement the Hawks can be a threat first round and send another favorite home.
Overall
Joe Johnson has to play like he's getting paid; elite. Atlanta needs to make it to the Eastern conference Finals or else G.M. Rick Sund may have no other choice but to blow the team up and rebuild.
Charlotte Bobcats (34-48)
Kemba Walker
will be the draw and face of the franchise. Pairing him with a shooter and scorer like Gerald Henderson will make for a good backcourt, but no big men will be the Achilles heel of the Bobcats.
Overall
The Bobcats are post season material, but they have players that are fun to watch. Kemba Walker will probably be a runaway candidate for Rookie of the year.
Washington Wizards
(23-59)
John Wall
is expected by experts to make the ''leap'' this year that will make him a superstar caliber point guard. Andray Blatche and JaVale McGee give him a big, talented front court that could be the East's version of The Clippers ''Lob City''. Nick Young is also the team's best overall scorer.
Overall
The Wizards will improve their record from last year, but there's still a sense of rebuilding in D.C. John Wall will definitely be a player to watch this year.
Southeast Division winner: Miami Heat
Eastern Conference Playoff prediction:
Eastern Conference Finals : Miami vs. Chicago
WESTERN CONFERENCE
SOUTHWEST DIVISION
The Dallas Mavericks retooled a bit this offseason but (from L to R) Vince, JET, Matrix,
Dirk, Kidd and LO hope to make another title run. (Photo by Glenn James/NBAE/Getty Images)
As you can tell by this brilliant rendition of "

We Are The Champions

" by 2011 NBA Finals MVP Dirk Nowitzki, the Dallas Mavericks are the defending NBA champions. They also had their share of roster turnover after losing Tyson Chandler, JJ Barea and Caron Butler while making Brendan Haywood a starter and adding Vince Carter and Lamar Odom a roster already with Jason Terry, Shawn Marion and Jason Kidd. Dallas is primed at another championship run with Nowitzki being the star and many good pieces around him.
Memphis Grizzlies (46-36)
The young and energetic Memphis Grizzlies and the ever-reliable San Antonio Spurs look to challenge the Mavs for the Southwest Division crown as both teams head in different directions. The Grizzlies had an improbable run to Game 7 of the Western Conference Semifinals behind the powerful frontcourt of Zach Randolph and Marc Gasol while Rudy Gay was sidelined with a shoulder injury last February. With Randolph and Gasol secured to newer contract and Gay healthy, could Memphis take another leap forward?
San Antonio Spurs (61-21)
The team Memphis upset in the first round—San Antonio—had the No. 1 seed in the West last season, but could not keep up with the Grizzlies power inside. The Spurs' core of Tim Duncan, Manu Ginobili and Tony Parker are getting up there in age but they may still have enough for another go at the title. Look for Gregg Popovich to monitor their minutes closely, but their role players must step up.
Houston Rockets (43-39)
The Houston Rockets have had winning records the last two years, but wound up No. 9 in the West each time. What is even more impressive is that they have played tough with non-household names like Luis Scola and Kevin Martin as Yao Ming battled injuries. Yao retired in the offseason and Kevin McHale takes over for Rick Adelman as head coach.
New Orleans Hornets (46-36)
The New Orleans Hornets will not be an immediate force in the West, thanks to David Stern nixing the Chris Paul trade that involved the Rockets and Lakers, but they can be young and entertaining. Al-Farouq Aminu, Eric Gordon and Chris Kaman are good pickups that can help the team in the long run, but for now they must jell together and hope for the best. At least New Orleans is likely to have two lottery picks, thanks to the Clippers trading Minnesota's pick to the Hornets.
PREDICTED CHAMPION:
Dallas Mavericks
Russell Westbrook (left) and Kevin Durant hope to make the next step this season and make the NBA Finals.
(Photo from XXLMag.com)
Oklahoma City Thunder (55-27)
The Oklahoma City Thunder has gone from a lottery team to a serious title contender in a short span of three years thanks to its two budding stars in Kevin Durant and Russell Westbrook. Oklahoma City made it all the way to the Western Conference Finals despite at times it seemed that the two stars were not on the same page during the playoffs. If those two, along with Serge Ibaka and James Harden, can tune out the distractions, we could have ourselves the makings of a multiple champion someday.
Portland Trail Blazers (48-34)
Another year, another battle with injuries. With LaMarcus Aldridge missing the preseason with a heart ailment, Greg Oden out for an indefinite amount of time and Brandon Roy being forced to retire, you would think that Portland can catch a break. With that said, the Blazers are still a tough and dangerous team with Aldridge now leading the team. If he, Gerald Wallace and Nicolas Batum can weather the storm, Portland will once again be a team no one wants to play in the playoffs.
Last season, the Denver Nuggets dealt Carmelo Anthony and played so much better after the "Melo-drama". This season, the Nuggets have been hit hard due to three key players—Wilson Chandler, Kenyon Martin and J.R. Smith—having to stay overseas until March. Denver did resign Nene after he flirted with leaving the team and all five of their projected starters averaged double-digits. The addition of those three playing elsewhere can only help down the stretch right?
From out of nowhere, the Utah Jazz traded away Deron Williams to the Nets at the trading deadline while Jerry Sloan stepped down as coach. Yes, change does happen in Utah. But for Williams, the Jazz got Devin Harris and Derrick Favors in the deal and they have a chance to perform well in the first full year with the team. Utah will compete for the No. 8 seed but they still need someone to step up at small forward.
Minnesota Timberwolves (17-65)
Minnesota will not sniff the playoffs this year, but they will be fun to watch with an abundance of youth and a good coach in Rick Adelman. Kevin Love is a rebounding machine but all eyes with be on Ricky Rubio—who will finally play for the Wolves. Rubio had seven assists in 24 minutes in the preseason against the Bucks on Dec. 17 and it could be a sign of things to come. The No. 2 overall pick in this year's draft—Derrick Williams—will be a good addition to the team, expect him to push Michael Beasley for playing time.
PREDICTED CHAMPION:
Oklahoma City Thunder
Kobe Bryant (24) and the Lakers run L.A. but their little brother hit a
huge growth spurt when Chris Paul got traded to the Clippers. (Photo by AP)
Los Angeles Clippers (32-50)
For the first time in…well ever, the Los Angeles are being talked about as a division champion and the possibility to make a playoff run to possibly the conference finals. This is what acquiring one of the best point guards in the NBA can do for a team. Chris Paul will have a field day lobbing up alley-oops to Blake Griffin and DeAndre Jordan as this team will be very athletic. The only thing that concerns me is with Chauncey Billups moving to the two guard, how will he defend the bigger shooting guards?
Los Angeles Lakers (57-25)
Across the hallway of the Staples Center, the Lakers lost out on Paul, Kobe Bryant lost his best friend on the court (Lamar Odom) and off (his former wife Vanessa), and Mike Brown is the new head coach. The Lakers were embarrassed by the Clippers in the preseason, but they should be ready once the season begins. If they can successfully pry Dwight Howard from Orlando, the Lakers will give Kobe some extra help he needs. If not, they are still a playoff team, but with a closing window.
The sun may be setting on some of the Phoenix players, but they sure are not playing like it. Steve Nash is still playing great at the point, while Grant Hill is still producing whenever needed. They must improve defensively as they surrendered 105.9 points per game—second-worst in the NBA. The Suns must also find a backup for Nash until Aaron Brooks is eligible to come back from China in March. Either Ronnie Price or Sebastian Telfair must step up.
Golden State Warriors (36-46)
Mark Jackson will make his coaching debut with the Warriors this season and he inherits one of the more exciting guard duos in the league. Both Stephen Curry and Monta Ellis can score plenty of points, but Ellis has been the subject of trade talk while Curry rolled his ankle during the preseason and might be hampered by it. On the frontcourt David Lee returns with hopes that he is healthy but can Andris Biedrins play well and hold off Kwame Brown?
It is Jimmer time in Sacramento! The Kings have a good collection of young talent that needs to mature but can be special if they do. Tyreke Evans, Marcus Thornton and Jimmer Fredette are three players who score well, while DeMarcus Cousins might be immature at times but he can be a force when things are good. One question remains—Will the team stay in Sacramento for good or will they move to Anaheim?
PREDICTED CHAMPION:
Los Angeles Clippers
Western Conference Playoff Prediction
Western Conference Finals:
Oklahoma City vs. Dallas
West Champion:
Oklahoma City
AWARD PREDICTIONS
MVP: Chris Paul, Clippers (Rob); Kevin Durant, Thunder (LaMar)
Rookie of the Year: Kemba Walker, Bobcats (Rob); Ricky Rubio, Timberwolves (LaMar)
Scoring Title: Carmelo Anthony, Knicks (Rob & Lamar)