The ULM Warhawks celebrate their biggest win in school history on Sept. 8 after a 34-31
overtime win over the Arkansas Razorbacks. (Photo by Nelson Chenault /US Presswire)
Down 28-7 midway through the third quarter to the No. 8-ranked Arkansas Razorbacks, many of the Warhawk faithful from the University of Louisiana Monroe thought had seen this story before.
Ladies and gentlemen, these are not your "same ol' Warhawks."
After stalling deep into the Razorbacks' red zone twice before Arkansas made it a three-touchdown deficit, ULM could folded up the tent and prepared for their next opponent, Auburn.
Once again, these are not your "same ol' Warhawks."
Even when a penalty at the end of regulation forced ULM to go to overtime, the Warhawks could have succumbed under the pressure and Arkansas could have barely eked out a victory.
For the last time, these are not your "same ol', sorry ass Warhawks!" (Thanks to my friend for coining the SOSAW term from our time at school together).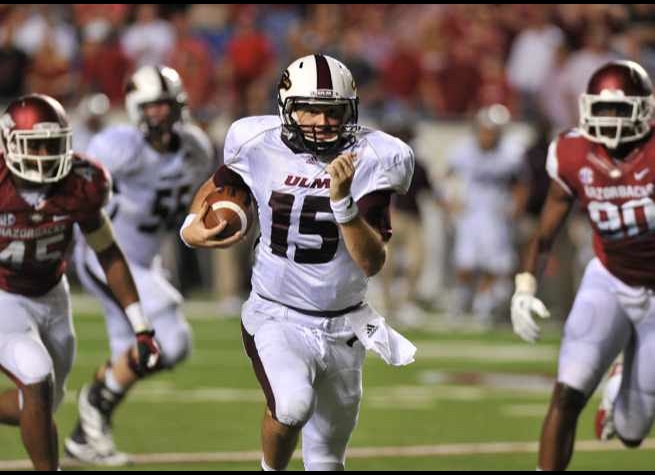 Kolton Browning (15) had the game of his life against the Arkansas Razorbacks on Sept. 8
by accounting for four touchdowns and nearly 500 yards. (Photo by Mark Wagner)
Things all changed when junior quarterback Kolton Browning took it upon himself on fourth-and-one to score on a 16-yard touchdown run.
When the scoreboard at War Memorial Stadium in Little Rock, Ark. read "ULM 34, Arkansas 31", the realization sunk in that the program witnessed its biggest win since jumping to the Football Bowl Subdivision (formerly Division I-A) in 1994.
"It's a great feeling; we feel like we deserve it," Browning said. "We believed the whole time, and we've believed for two years that we could put something like this together. We knew this moment was coming."
Now setting itself up with no worse than a 1-2 with a tough early season schedule that had Arkansas, Auburn and an ESPN Friday Night showdown with Baylor in Malone Stadium, one goal remains…
The school's first-ever bowl appearance.
In four of the last seven years, the program had been agonizingly close to a bowl. In 2005, 2009 and 2010, ULM failed to win the season finale each year to reach that goal.
However, this will not faze Warhawk head coach Todd Berry and his current team from this achievement.
ULM (then Northeast Louisiana University) won the Division I-AA (now FCS)
title in 1987 after defeating Marshall 43-42. (Image from ULM Archives).
"How they get where they are is not because they're great players," Berry said. "They get where they are because they work hard. They're willing to give it up for each other."
Although ULM has never played in the postseason in college football's top subdivision, the school has two national championships in the sport—1935 and 1987.
ULM might never make it to that plateau in the FBS, but with some
of the team
proclaiming after the game
, "This is for you. We're building this for you," this win could be the start of something special.